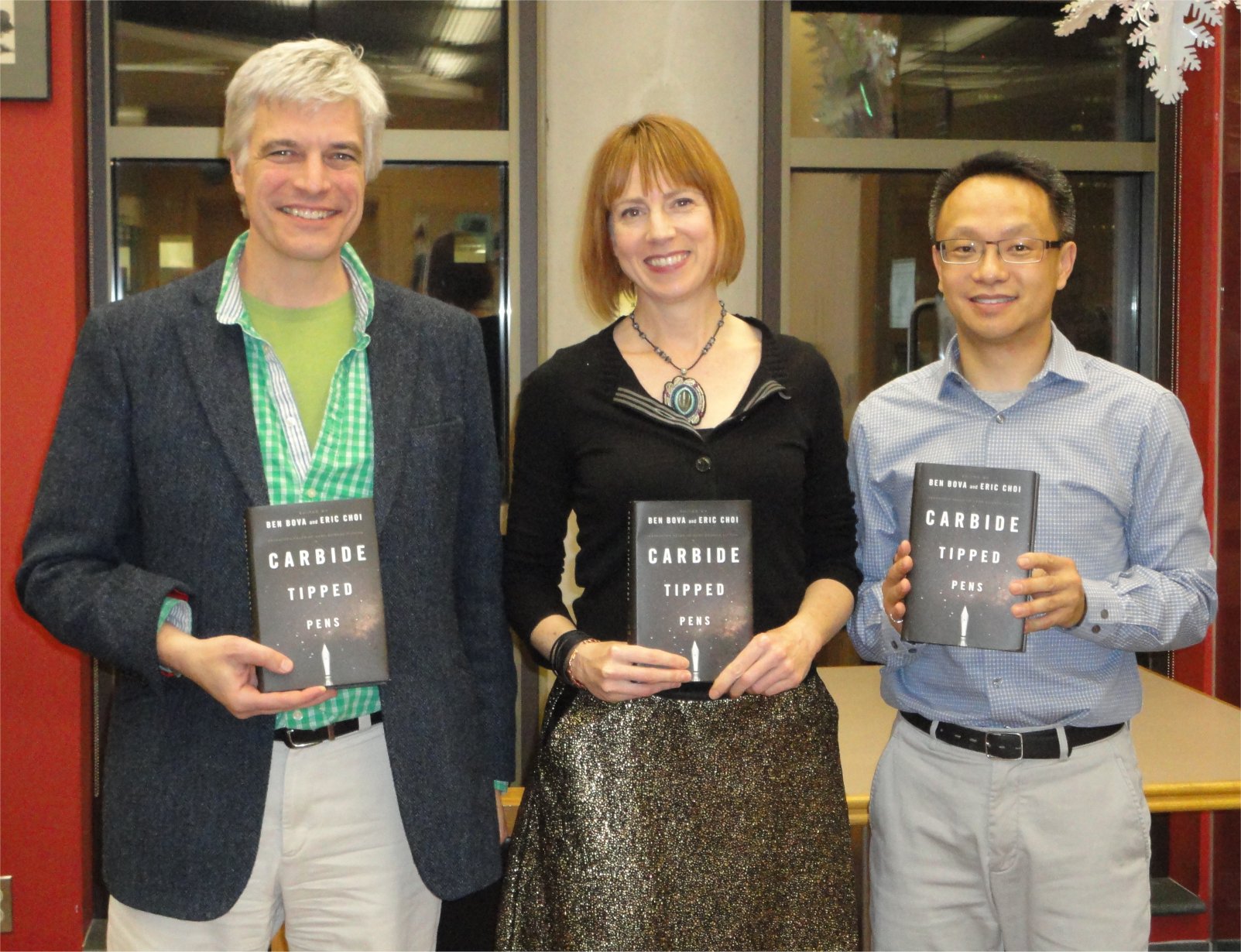 A big THANK YOU to many people for a terrific launch of Carbide Tipped Pens: Lorna Toolis, Annette Mocek, Donald Simmons and the Friends of the Merril Collection volunteers; the Toronto Public Library; Chris Szego of Bakka-Phoenix Books; Kate Story and David DeGraff who made long journeys to be here so that they could share their wonderful stories; and of course, everyone who came out to share the evening with us. Thank you!
Ben Bova was not able to join us in person, however, I would like to share his prepared opening remarks:
"To me, hard science fiction is the most exciting and mind-expanding field of writing. At its best, hard science fiction takes the reader to places no human eyes have yet seen — but someday we will reach those alien scenes and meet the strange and wonderful creatures who dwell there. Good fiction tests the human heart in a steaming crucible. Hard science fiction allows writers to make the crucible hotter, and test the human heart in new and fascinating ways — all while playing true to the known facts of the Universe. From the far future to the distant past, from here on Earth to the farthest galaxy, hard science fiction shows the Universe and the humans who inhabit it as they are, and as they will be. The stories in Carbide Tipped Pens are all excellent examples of this demanding, enthralling and enriching field."
Carbide Tipped Pens is available now in hardcover (Amazon, !ndigo, Barnes & Noble), ebook (Amazon, !ndigo, Barnes & Noble, Kobo, Google Play) and audio book (Downpour, Audible, Overdrive).