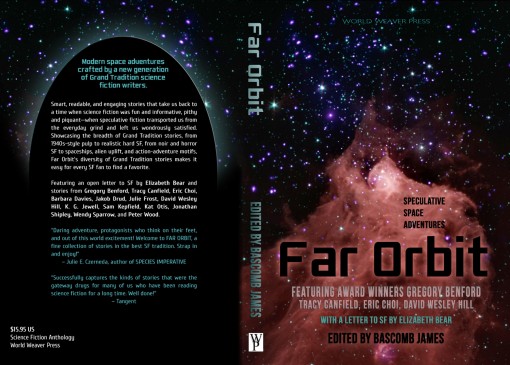 World Weaver Press has unveiled the full cover art for Bascomb James' upcoming anthology Far Orbit: Speculative Space Adventures in which my short story "From a Stone" will appear.  Thank you so much to Julie Czerneda for the wonderful blurb!
You can win a free advance paperback of Far Orbit by sharing the World Weaver post.  Tweeting the post with the tag @WorldWeaver_wwp will automatically enter you into the draw.  If you repost or share on other social media sites, leave a comment on the World Weaver site that includes the link to your post and a way for them to contact you.  Entry into the giveaway ends February 28, 2014.  Please note that the winner must have a U.S., Canadian or U.K. snail mail address.
For astronomy fans out there, the Far Orbit cover features a composite image of Cepheus B, a star-forming region about 2,400 light years from Earth, based on x-ray and infrared data from NASA's Chandra Observatory and Spitzer Space Telescope, respectively.
Far Orbit will be officially released in April.
"Daring adventure, protagonists who think on their feet, and out of this world excitement!  Welcome to Far Orbit, a fine collection of stories in the best SF tradition.  Strap in and enjoy!" – Julie E. Czerneda, author of the Species Imperative trilogy