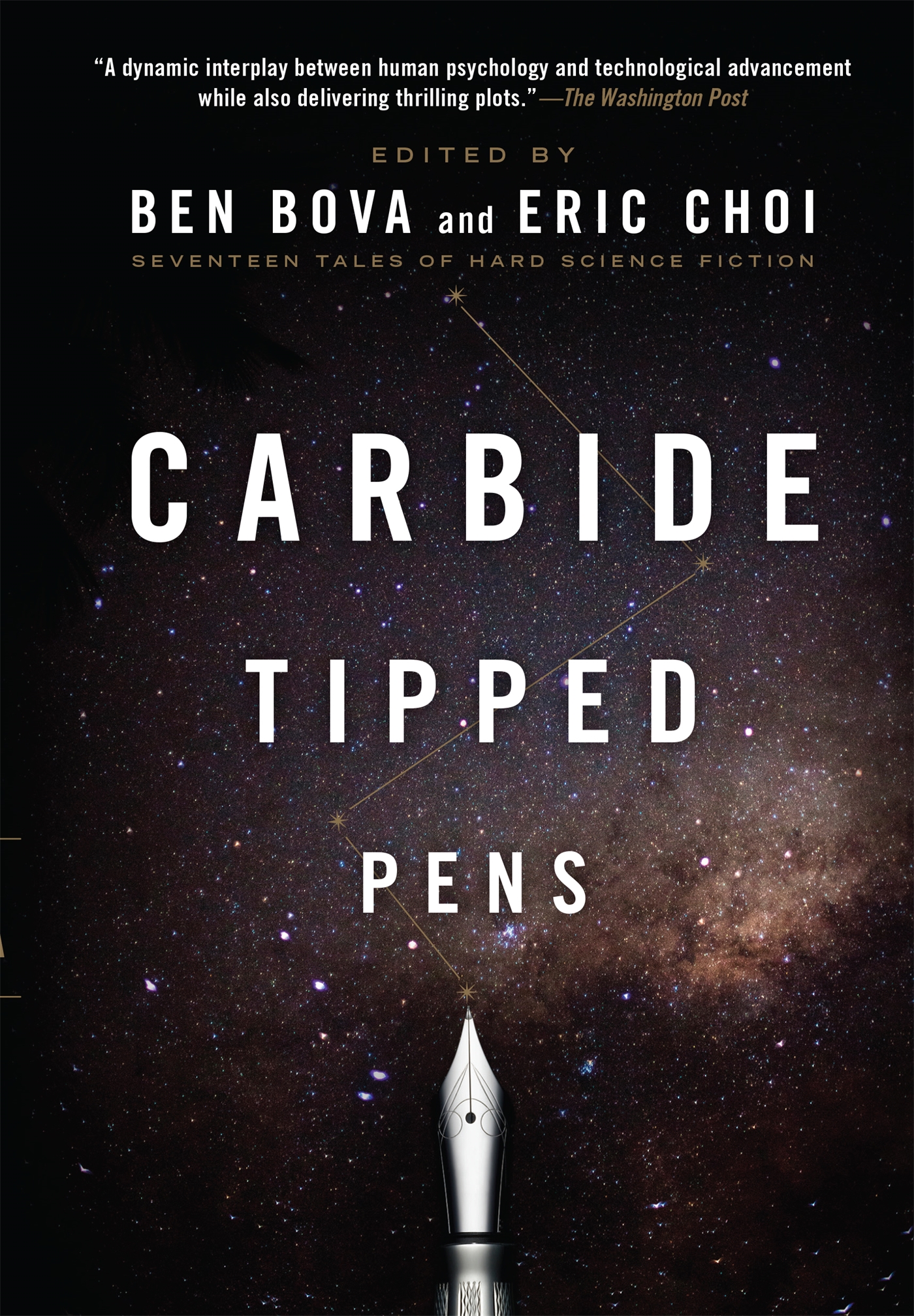 Seventeen Hard SF Tales by Today's Top Authors
Editors: Ben Bova and Eric Choi
Publisher: Tor Books
Language: English
Hardcover ISBN: 978-0765334305
Trade Paperback ISBN: 978-0765334312
eBook ISBN: 978-1466810198

Available in hardcover (Amazon, !ndigo, Barnes & Noble), trade paperback (Amazon, !ndigo, Barnes & Noble), ebook (Amazon, !ndigo, Barnes & Noble, Kobo, Google Play) and audio book (Barnes & Noble, Downpour, Audible, Overdrive).
Follow Carbide Tipped Pens on Facebook.
Watch the book trailer on YouTube.
"A dynamic interplay between human psychology and technological advancement while also delivering thrilling plots."
"A science fiction anthology that strikes a balance between radical scientific ideas and grounded human emotion…Hard-core sci-fi fans will gobble this up, and readers newer to the genre should give it a chance, too."
"A pleasing sampling of stories, all showing the range found even within a subgenre like hard SF. Well-known novelists such as Gregory Benford appear alongside Aliette de Bodard and other top writers of the short form, plus some talented newcomers are featured."
"As the stories in this new collection, edited by Choi and SF master Ben Bova, indicate, hard SF can go down many different roads. And the point is never just the science and engineering itself, but rather what people do with it, or what it does to them."
"If you're looking for an SF anthology to purchase this season, I heartily recommend Carbide Tipped Pens."
Recommended by Bakka Phoenix Books.
Hard science fiction is the literature of change, rigorously examining the impact — both beneficial and dangerous — of science and technology on humanity, the future and the cosmos. As science advances, expanding our knowledge of the Universe, astounding new frontiers in storytelling open up as well.
In Carbide Tipped Pens, seventeen of today's most creative imaginations explore these frontiers, carrying on the grand tradition of such legendary masters as Asimov, Heinlein, and John W. Campbell, while bringing hard science fiction into the 21st Century by extrapolating from the latest scientific developments and discoveries. Ranging from ancient China to the outer reaches of the Solar System, this outstanding collection of stories, written by an international roster of authors, finds wonder, terror, and gripping human drama in topics as diverse as space exploration, artificial intelligence, biotechnology, climate change, alternate history, the search for extraterrestrial intelligence, interplanetary war and even the future of baseball. From tattoos that treat allergies to hazardous missions to Mars and beyond, from the end of the world to the farthest limits of human invention, Carbide Tipped Pens turns startling new ideas into state-of-the art science fiction.
Table of Contents
Preface
"The Blue Afternoon That Lasted Forever" by Daniel H. Wilson
"A Slow Unfurling of Truth" by Aliette de Bodard
"Thunderwell" by Doug Beason
"The Circle" by Liu Cixin (translated by Ken Liu)
"Old Timer's Game" by Ben Bova
"The Snows of Yesteryear" by Jean-Louis Trudel
"Skin Deep" by Leah Petersen & Gabrielle Harbowy
"Lady with Fox" by Gregory Benford
"Habilis" by Howard V. Hendrix
"The Play's the Thing" by Jack McDevitt
"Every Hill Ends With Sky" by Robert Reed
"She Just Looks That Way" by Eric Choi
"SIREN of Titan" by David DeGraff
"The Yoke of Inauspicious Stars" by Kate Story
"Ambiguous Nature" by Carl Frederick
"The Mandelbrot Bet" by Dirk Strasser
"Recollection" by Nancy Fulda
About the Contributors