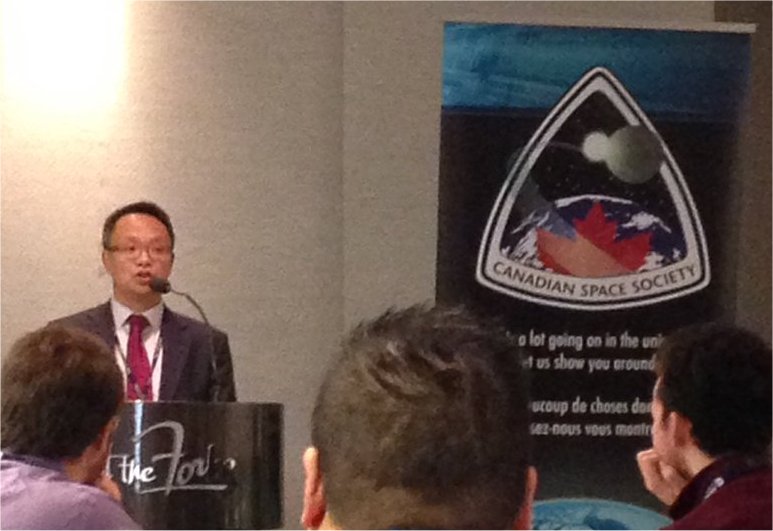 Image Credit: Renate Pohl
I was honored to have delivered the opening keynote speech last week at the 2016 Canadian Space Summit in Winnipeg, Manitoba. Here is the text of my remarks:
Thank you, Wayne [Ellis, Vice-President, Canadian Space Society].
Good morning everyone, and welcome to Winnipeg. I am delighted to be here this morning to kick-off the 2016 Canadian Space Summit.
I would like to take this opportunity to thank Wayne and the Local Organizing Committee, and the Winnipeg Chapter of the Canadian Space Society for the excellent job they have done in putting the Summit together. Magellan [Aerospace] is proud to be the official event sponsor for the Summit, and I would like to acknowledge again the generosity of our fellow sponsors: Manitoba Aerospace, the Manitoba Museum, UND Space Studies, InLand Audio Visual, AGI, MDA, AppSpace Solutions, PrecisionADM and EnviroTrec.
I would also like to acknowledge and thank all the volunteers who are giving so generously of their time to be here at the Summit and help make sure that everything runs smoothly.
I'm sure that many of you are in desperate need of coffee, so I promise to keep my remarks brief.
The slogan of this year's Summit is, "At the Center of it All." What do we mean by that? Well, the city of Winnipeg is located near the geographic center of North America, at the confluence of the Red and Assiniboine Rivers. This blessing of geography has meant that, historically, Winnipeg has been the center of innovation and the launching-off point for the exploration of the three great Canadian frontiers of the last century: the West, the North, and the sky.
Here in Winnipeg, Magellan Aerospace can trace its heritage back to the MacDonald Brothers Aircraft Company, which was founded in 1930 to produce seaplane floats. In the 1930s, the frontier of the sky beckoned us, as the frontier of space beckons us today. The vision and daring of Canada's pioneering bush pilots and early aviation entrepreneurs is well documented, but here in Winnipeg, there is one name that stands above others, and that name is James Armstrong Richardson.
Those of you who flew here might have noticed that our airport is named for James Richardson. And the Richardson family today remains an honored pillar of our community, whose business holdings and charitable foundation have generously supported education, youth initiatives, environmental issues, and the visual and performing arts for many decades.
I would like to take a moment to talk about James Richardson, because I think his story at the dawn of Canadian aviation has relevance to us today, as we reach into space.
James Armstrong Richardson was born in Kingston, Ontario in 1885. After graduating from Queen's University, he came here to Winnipeg to join his family's grain business. Richardson was a remarkable business person, not just for his commercial acumen, but for the manner in which he conducted his affairs. To Richardson, a handshake was as good as a contract, and his word was his bond.
Richardson was bitten by the aviation bug during a summer holiday in 1926, when he watched a Curtiss seaplane take-off and land on a lake, carrying passengers and cargo to prospector camps. He immediately recognized the importance of aviation to Canada, both as a means of bridging the vast distances of our geography, and also that fact that Canada – like Winnipeg – really is at the center of it all. Canada, Richardson realized, enjoyed a great geographic advantage owing to its position in latitude, and that Canada could be a gateway from which air travelers could, in his words, "fly around the world and over the top."
So, I'm sure you can imagine Richardson's frustration and dismay that, at least outside of the flying community, relatively few people in Canada seemed to share his vision. He was alarmed that commercial aviation was developing at a much faster pace in the United States and Europe, while commercial aviation in Canada was stagnating due to a lack of interest and investment. Across the ocean, the government-subsidized Imperial Airways of Britain was eyeing the transatlantic routes. From the south, a company called Canadian Colonial Airways – which, despite its name, was actually an American company owned by the Aviation Corporation of Delaware – was starting to carry trans-border airmail between New York and Québec.
As a proud Canadian, Richardson believed that our country had to control its own destiny in the air, and he was prepared take action himself to ensure that commercial aviation remained in Canadian hands. Richardson started his own airline in 1926, investing what was then the enormous sum of $200,000 – and this really was his own money, not the family fortune. This company became Canadian Airways in 1930, the first large-scale airline in Canada. In 1934, Canadian Airways carried 16,000 passengers and 2.5-million kilograms of cargo.
Quite an accomplishment, considering there was this little thing called the Depression going on.
In the decades that followed, government and industry working together would build on the foundation that James Richardson had laid, creating an aviation industry that is today a peer with the best in the world. It is, however, remarkable and sobering to think that without visionaries like James Richardson, it almost didn't happen, that Canada almost "missed the flight" so to speak, at a crucial juncture in early aviation history.
James Richardson died in 1939. He was only 53-years-old. Less than a quarter century after his death, Canada took its first step beyond the sky. With the launch of Alouette 1, Canada became the third country to have a satellite in space, after Russia and the United States. Since the launch of Alouette, Canada has developed internationally recognized expertise in a number of niche space technologies and applications: the world's first domestic telecommunications satellite system, the iconic Canadarm on the Space Shuttle, the Mobile Servicing System robotics on the International Space Station, and scientific instruments for remote sensing, astronomy, and space exploration, to cite just a few examples.
For over fifty years, Magellan Aerospace Winnipeg has been proud to be a part of this great Canadian adventure. Our Black Brant sounding rockets, which you will hear more about from my colleague Kimberly Norrie, enable rapid and low-cost sub-orbital missions ideally suited for the research and academic community. We have worked with researchers to develop scientific experiments that have flown not only on the Black Brants but also the Space Shuttle and the International Space Station.
And we build satellites, right here in Winnipeg. SCISAT-1 was a low-cost satellite launched in 2003 that was designed to last two years but is still going strong today, 13 years later, providing Canadian researchers with valuable atmospheric science data. CASSIOPE was a satellite launched in 2013 that carries a prototype Canadian communications technology as well as scientific instruments from the University of Calgary for studying space weather. Today, we are putting the finishing touches on the three satellites of the RADARSAT Constellation Mission. On track for launch in 2018, RCM is the next-generation in a line of successful Canadian RADARSATs dating back to the 1990s, providing crucial data for operational and scientific users supporting environmental and climate change monitoring, natural resource management, disaster response, and sovereignty and security. For the national interest of Canada, it is therefore crucial that we ensure the long-term continuity of RADARSAT data, both now and into the future.
As Wayne mentioned, some of you had a chance yesterday to see two of the RCM satellites in our Advanced Satellite Integration Facility. The "ASIF", as we like to call it, was enabled by a partnership between Magellan Aerospace, the University of Manitoba and Western Economic Diversification Canada. Integral to the partnership is a significant cash investment by Magellan towards the establishment of an industrial research chair in the Faculty of Engineering at the University of Manitoba. Under this agreement, University of Manitoba engineering students will be able to build and test their own space hardware in the ASIF.
These types of partnerships are very important.
As impressive as Canada's past and current successes in space have been, it is vital that we do not rest on our laurels and become complacent. As the 1930s were a crucial juncture in the history of commercial aviation, so we are at another crucial juncture today in the development of space. According to the Aerospace Industries Association of Canada, in 2013 there were 58 countries with active space programs, and the revenue of the global space industry that year was $250-billion. Looking ahead, the global space market is expected to grow to $284-billion by 2023. This is an opportunity that Canada cannot afford to miss – literally, cannot afford to miss – as we almost "missed the flight" with commercial aviation in the 1930s.
As our Federal Government develops its Innovation Agenda, an action plan to make innovation a national priority and put Canada on a path to long-term, sustainable, and inclusive economic growth, we must ensure that space is an integral part of the national innovation strategy. On the occasion of launching Canada's current astronaut recruitment campaign, our honorable minister of innovation, science and economic development, Navdeep Bains, said himself that, "Space is at the cutting edge of innovation."
Canadian government investment in space is currently lagging behind that of other countries, being less than half the OECD average. This needs to change. As Minister Bains said at the recent Waterloo Innovation Summit, in countries that owe their growth to innovation, government plays an active role in nurturing that success. For example, by setting ambitious national goals, investing in early-stage research, being an early adopter or customer for new innovations, and lowering the risks to allow the private sector to bring innovations to market.
Ultimately, the most valuable resource for innovation is, of course, innovative and visionary people. And for that we are fortunate that Canada has visionaries in plenty, something that hasn't changed since James Richardson's day. A lot of them are right here at the Summit, and I hope you will have a chance to meet them over the next two days.
I hope you will talk to Brigadier-General Frawley and learn about the importance of space to Canada's security. I hope you will talk to René Doyon about Canada's role in the James Webb Space Telescope, and Gordon Sarty about space life science and astronaut health, and John Spray about the Mars Science Laboratory. I hope you will talk to Larry Reeves about Urthecast's new programs. I hope you will talk to my colleague Dario Schor about Magellan's education and outreach activities. I hope you talk to Renate Pohl and Gordon Campbell about space art and culture. I hope you will talk to Steven Freeland about space policy.
Government, industry, academia, private citizens. Engineers, scientists, business and finance people, artists, dreamers. We all have a role in this great Canadian adventure called space. And this is the way it has to be. We must continue to move forward together, forward and upward, to the places where we need to be: at the horizon, at the frontier, at the center of it all.
Welcome to Winnipeg. Welcome to the 2016 Canadian Space Summit, and may the pioneering spirit of James Richardson be with you. Thank you.