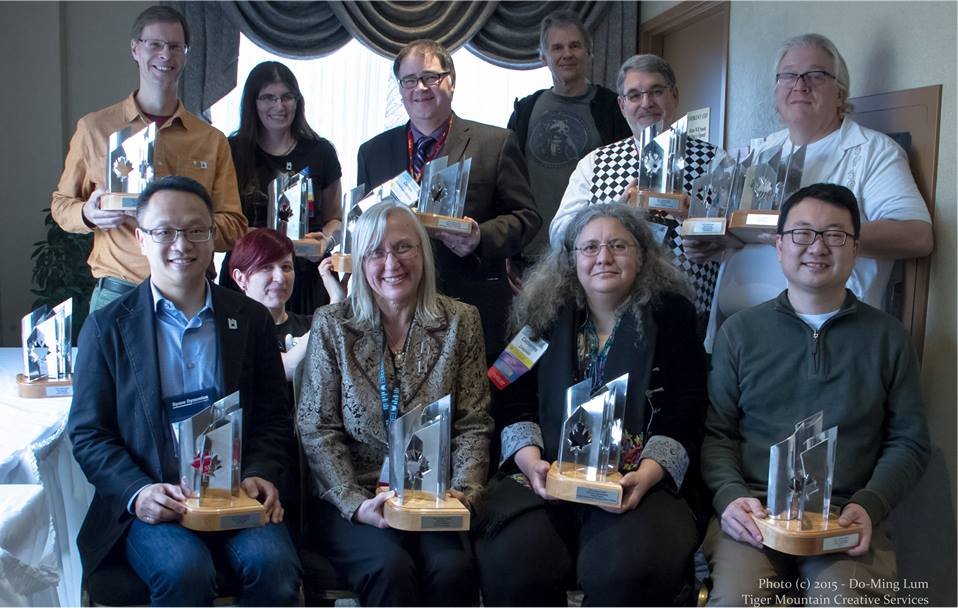 Image Credit: Do-Ming Lum
My short story "Crimson Sky", which appeared in the July/August 2014 issue of Analog Science Fiction and Fact, has won the 2015 Prix Aurora Award in the category of Best Short Fiction English. Canada's national award for excellence in science fiction and fantasy, this year's Auroras were presented yesterday at SFContario 6 / Canvention 35 in a ceremony hosted by Hugo and Aurora winning author Peter Watts.
While I am delighted that my story has been honored, I am also disappointed that there were not three more Auroras in the Short Fiction category for my friends Suzanne Church, Tony Pi and Derwin Mak ("Mecha-Jesus" deserved an award just for the title!). Thank you so much to the Canadian Science Fiction and Fantasy Association, the Aurora voters, and Trevor Quachri for recruiting me into the Analog MAFIA.
Here is the complete list of 2015 Prix Aurora Award winners. Congratulations to everyone!
Best English Novel: A Play of Shadow by Julie E. Czerneda (DAW Books)
Best English YA Novel (Tie): Lockstep by Karl Schroeder (Tor Books) and Out of This World by Charles de Lint (Razorbill Canada)
Best English Short Fiction: "Crimson Sky" by Eric Choi, Analog Science Fiction and Fact, July/August 2014
Best English Poem/Song: "A Hex, With Bees" by Tony Pi, Wrestling With Gods: Tesseracts Eighteen (EDGE)
Best English Graphic Novel: It Never Rains by Kari Maaren, Webcomic
Best English Related Work: On Spec, Published by the Copper Pig Writers' Society
Best Artist: Dan O'Driscoll, Covers for Bundoran Press and On Spec magazine
Best Fan Publication: Speculating Canada, Edited by Derek Newman-Stille
Best Fan Music: Kari Maaren, YouTube channel
Best Fan Organizational: Sandra Kasturi, Chair, Chiaroscuro Reading Series Toronto
Best Fan Related Work: Derek Newman-Stille, Speculating Canada on Trent Radio 92.7 FM